Ryebank Fields are a part of my life. For the last decade, I have run, picked blackberries, played with my son and walked my dog there. I have watched as the oaks have grown and the aspen grove has spread. Arriving today to find brambles cleared, a new steel gate, men in high vis jackets and geotechnical survey rigs at work was a shock and, I have to admit, felt like a violation. So why have I not opposed development on the site?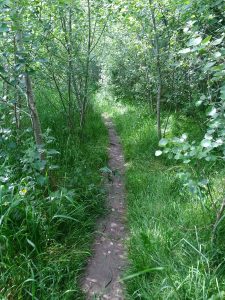 Firstly, for the simple pragmatic reason that I have always known, as private land, belonging to MMU, it would one day be developed, and because I believe that it is better to engage constructively to influence the outcome and ensure it is not just led by narrow commercial interests.
Secondly though, for the much more positive reason that we need homes. Not the steel and glass skyscrapers which the council is allowing to be built on every available plot of land around the periphery of the city centre, but well-designed, affordable and sustainable houses as part of dynamic and diverse communities. It is a shameful fact that Manchester is near the top of the league for homelessness in the UK despite one of the biggest building booms the city has ever seen. These new homes have to go somewhere and if we don't accept them in places like Ryebank Fields, they will end up being built on the greenbelt.
Thirdly, Chorlton is a community which is relatively rich in greenspace. We have Longford, Chorlton and Beech Road Parks, not to mention those in the neighbouring areas of Old Trafford and Whalley Range. We also have access to the Mersey Valley, including Chorlton Ees, Turn Moss, Sale and Chorlton Water Parks, etc. Yes, I agree, we all need access to greenspace and these spaces need to support diverse ecological communities as well as human activity, but we can't complain too much in that respect and Ryebank Fields is, after all, right next door to one of the largest and most diverse of these parks.
But, finally, I see the development of Ryebank not as a threat, but as an opportunity to create new models for housing and communities which set the standard for the rest of the city. We urgently need to find ways to design human living spaces which co-exist with ecological communities, to create integrated ecosystems of which we form a part instead of the monocultural and sterile environments we usually associate with new housing developments. If led by the community, instead of a purely commercial developer, we have the opportunity to create somewhere really unique which retains much of the historical and ecological interest of Ryebank Fields and which enriches Chorlton socially and culturally instead of just economically. I would like to see Ryebank Fields become a new benchmark for residential development, led by and for the community, a model which actually contributes towards achieving Manchester's avowed aspiration to carbon neutrality by 2038. Yes, the Fields will become something very different to what they are today and something will be lost in the process, but we as a community need to make sure this is positive evolution and not to just assume that all change is inevitably for the worst.
Eddy Fox, Board member