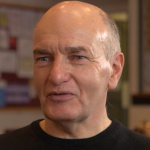 I believe that we need to create more opportunities for people to influence and shape how and where they live. In the face of a climate emergency we need to build a different future with new homes and revitalised neighbourhoods that show how living in cities can be much more sustainable.
I have lived in Chorlton for around 35 years and bring a wide experience of working in housing and in the voluntary sector in and around Greater Manchester. I'm also member of a local cohousing company in Chorlton where a group of us, aged over 55, are looking at ways of taking more control over where and how we live in the future.
I want Chorlton Community Land Trust to continue to strive to reflect local aspirations, champion ideas which will help protect the environment, support the building of much needed affordable homes, reduce the need for car use, and clearly demonstrate future ways of living based on sharing precious resources and building supportive communities.