In 2019, the Co-operative Group signalled its plans to sell the Funeralcare site on Manchester Road in Chorlton, Manchester. We submitted a community-led proposal with our development partner to save the historic former cinema, which was the scene of the Bee Gees first ever live performance, from demolition.
In January 2020, our initial bid was accepted which included over £400,000 pledged from over 1,200 members of the community. We are now working with The Co-operative Group to finalise the purchase to make our plans a reality.
Read the latest updates on the campaign in our News area.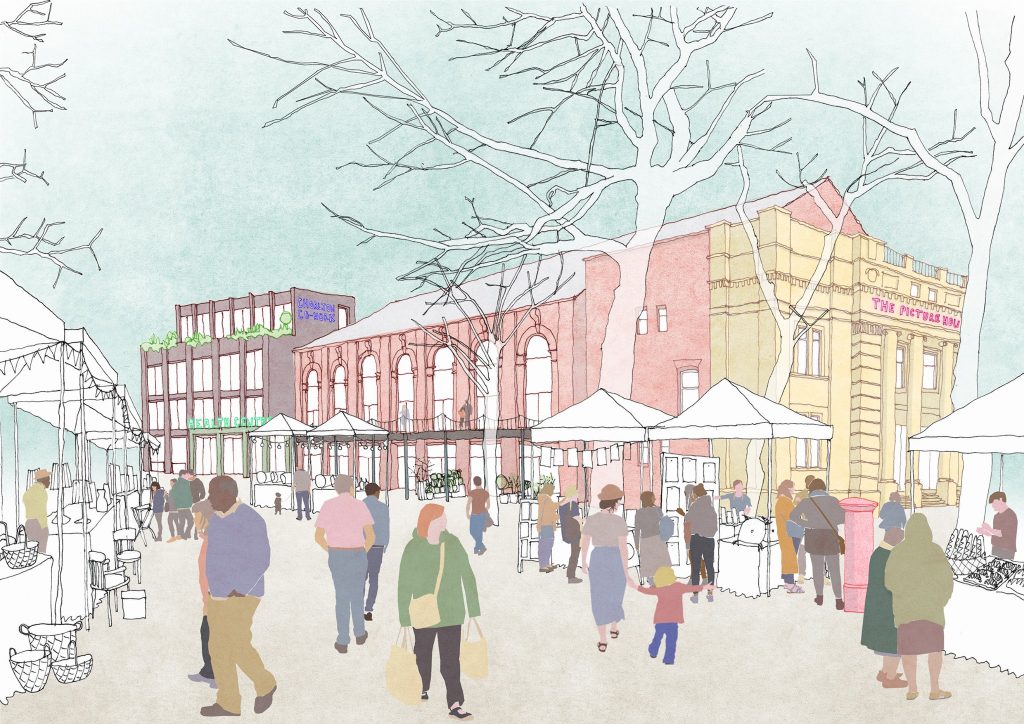 Formerly the Gaumont cinema it was once an important social centre for Chorlton, famous for being the place where the Bee Gees had their very first public performance.
The historic building is at risk of demolition for private residential apartments. Whilst the CLT supports the provision of more homes, especially affordable, in Chorlton, we don't think having this site all for residential is the best option. A valuable piece of Chorlton's heritage would vanish in the process and an opportunity for an exciting alternative option would be lost.
Our vision for The Picture House is to create a new landmark attraction to help revitalise the heart of Chorlton and boost local community well-being.
Through extensive engagement and consultation with the community, we seek to deliver this vision in practice by:
Securing the building as a multi-purpose, accessible meeting place for our community by blending commercial principles with community values, based around:


Food Market Hall – showcasing food & drink from Chorlton's diverse and distinctive traders
Art, music and performance offering – celebrating the local cultural scene and Bee Gees legacy
Community space – providing meeting and co-working space for the local community


The rear part of the site will provide new, high quality homes in order to secure the commercial viability of the Picture House. Alongside providing a number of affordable units.

A new public square for markets, gatherings and civic events
The unique structure of Chorlton CLT as a community-led organisation will ensure we take a values-based approach to the development whereby:
The Chorlton CLT will retain ownership of the freehold and agree leasehold arrangements which ensure the local community can influence how the building is used.


The CLT will issue shares in return for investments made by individuals who will also become members of the CLT.


The Board of the CLT will be accountable to its member shareholders through annual elections and regular open meetings.


Chorlton CLT have developed a strong relationship with an aligned developer and will have a say in agreeing the operators of the Picture House building.


The CLT will work with other local groups to ensure the Picture House contributes to the vibrant growth of our community and provides opportunities to support healthy, active living, promotes local art and recognises the historic connection to the Bee Gees.
Last updated March 2021