Chorlton CLT has the opportunity to embark on a project to set priorities for the regeneration of the commercial areas, principally along Wilbraham and Barlow Moor Roads. We have some funding from the Council's Neighbourhood Investment Fund to kick start a process in partnership with other groups and councillors.
There has been a lot of press coverage recently highlighting the challenges faced by commercial and retail centres across the country. Like other places, Chorlton has seen many changes to local business and building use over recent years, but not seen a lot of investment. As we emerge from the Covid epidemic we foresee opportunities to do things differently and want to shape the future of Chorlton in line with the aspirations of people who live, work, and visit the area.
There is a great deal to build on. Chorlton has a strong community spirit, active independent businesses and, despite our challenges, a lot of spending power. Potential catalysts for positive change such as The Picture House (if secured!) and the planned investment in the Precinct provide a real opportunity for wider change.  Nothing has been agreed yet, but our focus is likely to be on investment in our public realm and inspiring businesses and residents to help the area thrive. We have been looking at the progress made in Withington and want to learn from their achievements. They have secured the baths in community control, established a regeneration partnership and been the focus of a city council-sponsored bid to the Government's Levelling Up Fund. 
Chorlton has had plans before; including a recent Council sponsored Vital and Viable report by the Institute of Place management with some sound recommendations.  We believe a more co-ordinated approach that draws on local traders and people can help ensure development leads to Chorlton getting the right things in the right place for the right purpose. We want to work with local businesses, community groups and individuals to generate further momentum to ensure that Chorlton is the best it can be, for all of us.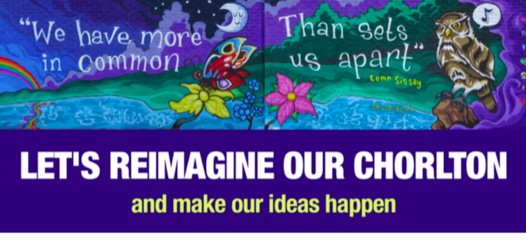 If you are interested in getting involved, particularly in some practical next steps, please drop us a line on hello@chorltonCLT.org. We'd be delighted to hear from you.  Or come along and speak to us at the Let's Reimagine Chorlton "Art in the Park" event on Sunday 19 September 1.00pm – 4.00pm in Beech Road Park.